UPCOMING – LUNCHTIME CONCERT IN THE NCH – 
Lunchtime concert in The John Field Room NCH

Friday 7th April 2017 with special guest John Elwes

.

John Elwes is particularly well known for his sensitive and musical performances. His repertoire is extensive ranging from Monteverdi, Rameau, Bach and Handel to Mozart, Schubert, Schumann, Mahler and Britten. He regularly performs with the leading conductors of baroque, classical and contemporary music. He has sung in over one hundred recordings, including Dowland's First Book of Ayres, Schubert's song cycles Die Schöne Müllerin and Winterreise, Purcell's The Tempest, Bach's St Matthew Passion and Mass in B minor, Handel's Messiah and Mahler's Das Lied von der Erde, for which he was nominated for a Grammy Award in 2008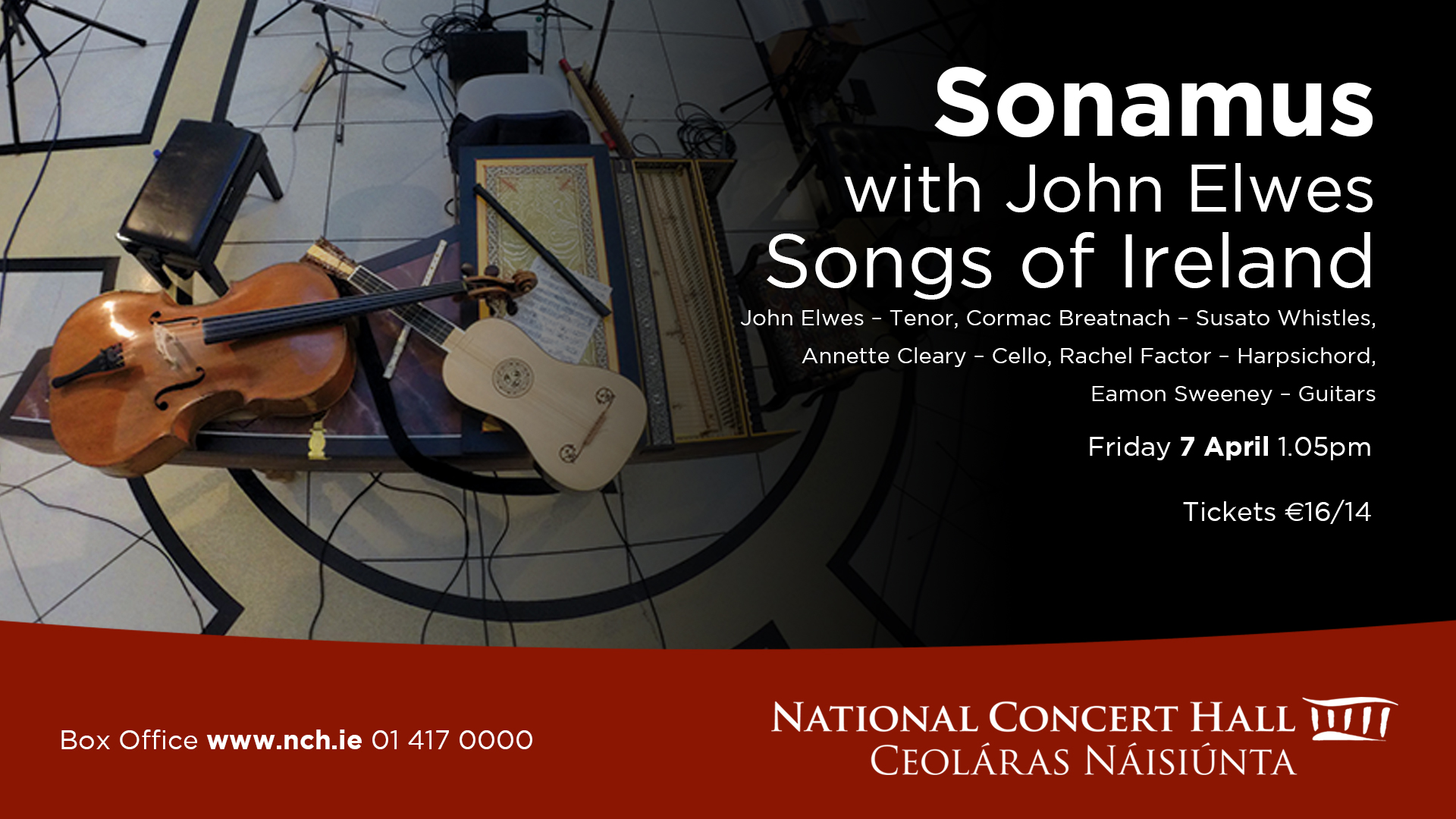 Concerts in 2017
John Field Room, Friday, 7th April, 2017, lunchtime with John Elwes
John Field Room, Friday, 3rd March, 2017, lunchtime with Ódhrán Ó Casaide
Wed 3rd January, 2017  Bello Bar, Portobello, Dublin with James Mahon
PAST CONCERTS in 2016
Sonamus Autumn tour 2016
Fri 16/9/16 : 7.30-9:00 pm County Museum, Clonmel, Co. Tipperary
 Sun 18/9/16: 8:00 – 10:00 pm Hawk's Well Theatre, Sligo
 Fri 23/9/16: 8:00 – 10:00 pm Cultúrlann McAdam Ó Fiaich, Belfast
 Thurs 6/10/16: 8:00 – 10:00 pm Linenhall Arts Centre, Castlebar, Co. Mayo
 Fri 28/10/16: 8:00 – 10:00 pm Mermaid Arts Centre, Bray, Co. Wicklow
 Fri 11/11/16: 8:00 – 10:00 pm Glór Theatre, Ennis, Co. Clare
 Sun 18/12/16: 1:00 – 2:00 pm Hugh Lane Gallery, Dublin
SOME PAST CONCERTS in 2015
John Field Room, Friday, 1st May, 2015, lunchtime
Hugh Lane Gallery, Dublin 1, Sunday 6th September 2015 at 12pm.
RHA Gallery Ely Place, Dublin 2 'Culture Night' Friday 18th September 2015 at 19.30 pm.
Nun's Cross Church, Ashford, Co. Wicklow Saturday 21st November 2015 at 8pm.
The nights lengthen and Alchemy Music Series presents its final concert of the 2015 Season featuring Alan Smale (violin) & and Ruby Ashley (oboe) respectively Leader Emeritus of the RTE National Symphony Orchestra, and former Principal Cor Anglais with the RTE National Symphony Orchestra and Principal Oboe with Irish Chamber Orchestra. Alan and Ruby will join Sonamus, featuring Cormac Breatnach (whistles) Annette Cleary (cello), Rachel Factor (harpsichord) and Eamon Sweeney (guitars).
The evening will feature a wonderful mix of music including – music from the movies The Mission & The Deerhunter, Traditional Irish music, Vivaldi's Guitar Concerto, Turlough O'Carolan, and Handel.
Taking place in the beautiful Nun's Cross Church the atmospheric music will be enhanced by candlelight, discrete stage lighting, the subtle skill of esteemed sound engineer, Ben Rawlins…. and a nice cup of tea or coffee.